How to buy – visit contact us – list your order
we will send an invoice (including carriage)
Payment by PayPal or cheque


***Check out  our Fantastic Range of Fleeces***
FLEECES
We stock fleeces from most Rare and Traditional sheep breeds. The great variety of natural colours and the wide range of wool characteristics (staple length, fineness, lustre, crimp etc.) inspires spinners, felters, weavers and many other craftspeople. In packs of 50gm. 100gm. or by kilo.
Supplied as washed or unwashed (raw).
We will dye your selected fleeces to meet your needs.
******
 

** 

Specially selected longstaple Wensleydale fleece

 

**
******
LUSTRE LONGWOOL AND RARE FLEECES
WENSLEYDALE
Ungraded
                                    raw per kg                                                           £18.00
                                     washed per kg                                                   £36.00
                                     washed  per 100gm                                           £  5.50
Medium Staple 15-18cm
                                       raw per kg                                                          £20.00
                                       washed per kg                                                   £40.00 
                                      washed per 100gm                                           £ 5.75
Long Staple 20-25cm
                                      raw per kg                                                            £25.50  
                                     washed per kg                                                    £50.100
                                     washed per 100gm                                            £ 6.50
Very Long Staple
                                    raw per kg                                                            £30.00
                                   washed per kg                                                      £60.00
                                   washed per 100gm                                               £ 7.75     
Baby 
                                   raw per kg                                                             £26.00
                                   washed per kg                                                      £52.00
                                   washed per 100gm                                              £ 7.00
Locks                         washed per 50gm                                                £ 5.00
                                   washed per 100gm                                              £ 22.50
                                   dyed per 50gm                                                    £ 7.50
                                    dyed per 100gm                                                   £15.00
Black
medium staple         raw  per kg                                                          £24.00
                                    washed per kg                                                   £48.00
                                    washed per 100gm                                            £ 6.50
long staple                 raw per kg                                                         £30.00
                                      washed per kg                                                    £60.00
                                   washed per 100gm                                             £ 7.75
TEESWATER, LEICESTER LONGWOOL (BLACK & WHITE), GREYFACED DARTMOOR
Raw Fleece per kg                                                                                 £20.00
Washed Fleece per kg                                                                          £40.00
Washed Fleece per 100gm                                                                   £ 5.60
BLUEFACED LEICESTER (BLACK & WHITE)
Raw per kg                                                                                              £25.00
Washed per kg                                                                                       £50.00
Washed per 100gm                                                                                £ 6.00
BLOSSOM
Black Blossom (raw) per kg                                                                  £23.00
Black Blossom (washed) per kg                                                           £46.00
Black Blossom (washed) per 100gm                                                   £ 5.50
Baby Black Blossom (raw) per kg                                                        £26.00
Baby Black Blossom (washed) per kg                                                £52.00
Baby Black Blossom (washed) per 100gm                                        £ 7.00
White Blossom (raw) per kg                                                                £20.00
White Blossom (washed) per kg                                                        £40.00
White Blossom (washed) per 100gm                                                £ 5.25
Baby White Blossom (Raw) per kg                                                   £23.00
Baby White Blossom (washed) per kg                                             £46.0
Baby White Blossom (washed) per 100gm                                     £ 6.00
LONGWOOL FLEECES
Galway, Romney, Border Leicester
Raw Fleece per kg                                                                             £18.00
Washed Fleece per kg                                                                      £36.00
Washed Fleece per 100gm                                                               £ 5.50
COLOURED FLEECES
Castlemilk Moorit, Hebridean, Black Welsh Mountain, Herdwick, Jacob,
Manx Loaghtan, North Ronaldsay, Coloured Shetland, Soay, Hebridean X
Raw Fleece per kg                                                                            £20.00
Washed Fleece per kg                                                                     £40.00
Washed Fleece per 100gm                                                             £ 6.00
OTHER FLEECES
Clun Forest, Dorset (horn, poll), Oxford Down, Portland, Ryeland, Shropshire, Southdown, Suffolk, Lleyn, British Texel, Masham, Mule, Greyface, Cheviot, Kerry Hill, Shetland (white), Whitefaced Woodland, Swaledale, Scots Blackface, Dorset (Horn & Poll)
Raw Fleece per kg                                                                          £19.00
Washed Fleece per kg                                                                   £38.00
Washed Fleece per 100gm                                                           £ 5.50
***************
ALPACA
Raw, various colours  per kg                                                        £28.00
Raw, various colours, per 100gm                                                £ 5.00
**************
CARDED FLEECE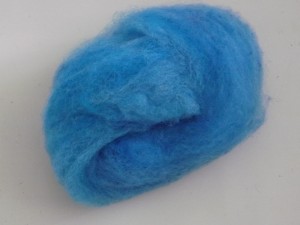 HAND-CRAFTED BATTS  (per 20gm)
Lustre Longwool                                            Natural              £ 3.00
                                                                          Dyed                  £ 4.75
                                                                          Marbled            £ 5.00
Longwool                                                        Natural              £ 2.85
                                                                          Dyed                   £ 3.50
                                                                          Marbled              £ 3.75
Coloured Fleeces                                            Natural               £ 2.60
Other Breeds (white)                                      Natural               £ 2.50 
                                                                           Dyed                   £ 3.75
                                                                            Marbled            £ 4.00
**************
CARDED FLEECE (per 100gm)
Lustre Longwool                                                   Natural               £18.00
                                                                                  Dyed                   £25.00
Longwool                                                                 Natural              £16.75
                                                                                   Dyed                  £21.40
Coloured Fleeces                                                    Natural              £15.00
Other Breeds                                                           Natural               £14.50
                                                                                    Dyed                  £19.50
*****************
YARNS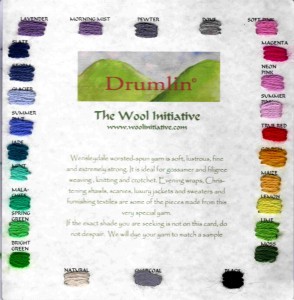 Skeins (natural) per 100gm
Lustre, oiled                                                                                             £14.00
Lustre, washed                                                                                        £22.50
Other yarns, oiled                                                                                   £ 11.00
Other yarns, washed                                                                              £18.50
Balls per 50gm
Lustre, natural                                                                                         £ 8.80
Lustre, hand-dyed                                                                                   £10.50
Other yarns, natural                                                                                £ 7.80
Other yarns, hand-dyed                                                                          £ 9.75
OILED-ON-CONE per 100gm
Lustre                                                                                                         £ 12.00
Other yarns                                                                                               £ 9.75
**************